The Flagstaff is the Lamorna Society Magazine and is published twice a year, in June and December. It features important new research, anecdotes of life in Lamorna in past years, reviews of books and exhibitions of interest, an assessment of what interesting paintings and other material has come onto the market recently, as well as accounts of the visits organised by the Society during the year and its annual gathering in West Penwith each Autumn. The Honorary Editor is David Tovey.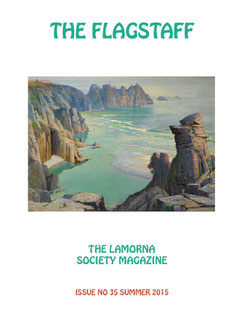 This issue includes the extraordinary work that Pam Lomax has been doing on the Newlyn Archive, and the interest that she has aroused through her Open Days that has also been a great boon to the Society and its archive. The archive is now housed in her annexe. Our chairman Anne Forrest has spent several weeks interviewing locals and getting precious new information and images for our records. Her piece on Estelle Fox, and the family's involvement with Kemyel Mills is just one example.
There is the second instalment to the 'Lamorna and the War' series and the first of a series of articles on 'Lamorna Homes', which is an account by Adam Kerr on the changes to Flagstaff Cottage.
Contents:
Editorial
New Members
Kemyel Mills, Lamorna
Australian artist who hailed Lamorna as 'a vista of fairyland'
Market News
The Milk Cart by Frank Heath

Other Market News
Lamoorna Society Visits - Nottingham 8-10 May
The Lamorna society Archive
'Friends of Lamorna
Lamorna and the War
Frank Heath's War
Crosbie Garstin's War (Part Two): The Blinded Mole
Books to Read
Forthcoming Events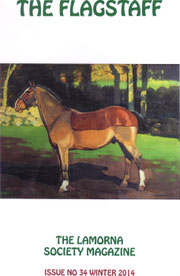 This is another bumper issue following contact with relatives of Benjamin Eastlake Leader, always known as Bengy, and his wife Bell Anderson. Their grand-daughter Rosemary Dick Cleveland lives happily with her husband in their former holiday home in a valley above Lake Bala in mid-Wales without mains water and electricity. Their collection of paintings by Bengy and Bell, and by Bengy's illustrious father, Benjamin Williams Leader RA had to be viewed by torchlight.
Contents:
Editorial
New Members
Chairman's report
Bengy and Bell Leader in Pre-War Lamorna
Marlow Moss (1889-1958)- Lamorna's member of the avant-garde
The Lamorna Inn- The Wink and Childhood Memories in Lamorna
Market News
The Lamorna Society AGM Weekend
Lamorna and the FirstWorld War
Crosbie Garstin's War (Part One): 'Getting There'
In Memoriam - Joey Carter Wood (1884-1915)
Books to read
Forthcoming Events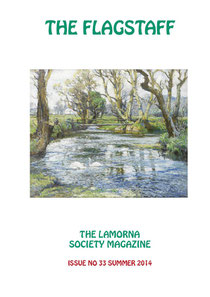 This issue has quite a Munnings slant, the items emanating from a wide variety of sources. David Tovey was contacted by Sara Alexander, the grand-daughter of Evelyn Hicks who was a model for both Munnings and Laura Knight. This led to the discovery that there were in fact two Munnings models called Evelyn!
Contents:
Editorial
New Members
A tale of two Lamorna models called Evelyn
T.P. & Edith Fielden: Continuing friendships with Newlyn painters
Market News
Lamorna Society Visits- The May weekend in Whitby and Staithes
Archive Open Day- The Good Friday Walk to Lamorna
Lamorna- A Memoir
Beyond Lamorna, Paul Feiler at Kerris
Books to Read, Trewoofe Manor as Crosbie Garstin's 'Bosula' or 'The Owl's House'
Forthcoming Attractions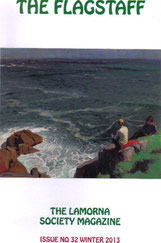 It is always exciting when completely new information about the Lamorna Colony comes to light, and this issue contains some important and fascinating new research.
Contents:
Editorial
Chairman's report
New Members
TP& Edith Fielden: 20th century connections with Newlyn painters
The creative and caring spirits of the Yglesias sisters
The mystery of the Lamorna Cross solved
Jonathan Smith on 'Summer in February' at Malvern Theatre
Exhibition – From Newlyn to Lamorna, featuring works of Eric Ward
Market News
Lamorna Society AGM Weekend
Sheila Hale: An Appreciation
Death of Mary Bowring: champion of the Society
Beyond Lamorna: A Note on Mrs Katie Handyside
Books to Read: Cecily Sedgewick –In Other days (1915)
Forthcoming Attractions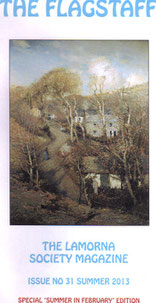 A bumper edition of Flagstaff, which celebrates the exhibition and film, Summer in February. Also it has been an exciting six months for lovers of Cornish art. Earlier this year, the Bulldog Trust hosted, at Two Temple Place, the exhibition - Amongst Heroes- The Artist in Working Cornwall – the first exhibition of representational Cornish art in London since 1979.
Contents:
Editorial
New Members
Lamorna's Women's Institute
Australia's 'Little Corot' who called her home 'Lamorna'
Algernon Newton (1880-1968) – Rediscovered
Memories of 'Cliff Cottage'
Thomas Gotch and the Ruby Mystery
Market News
John Ernest Nash – Obituary
A 1930 Lamorna Gathering of possible historic interest?
Lamorna Visits – Two Temple Place & 'Summer in February' Weekend
Beyond Lamorna: Denis Mitchell & John Wells at Trewarveneth Studio
Books to Read: Jim Hosking – Cornish Connections
                         Christies – A Life with Art
Forthcoming Events