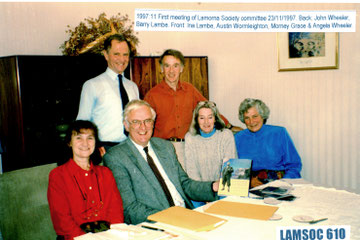 As we plan the 25th celebrations for The Lamorna Society in 2022, the Obituaries section is our way of fondly remembering the band of enthusiasts who helped form The Lamorna Society in 1997, following the exhibition of Lamorna Birch's work at Falmouth Art Gallery and those who contributed so much to later years.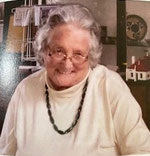 Helen Maryella Pigott (1933-2023)
The death of another long-standing member, Maryella Pigott, leaves a void impossible to fill for she was a unique character, who contributed so much to the Society and to our knowledge of the history of the art colony. In a superb eulogy given at her funeral, which this piece draws extensively, her daughters fittingly described her as follows "Maryella was an elegant, feisty lady with a wicked sense of humour – a character. She was loving, intelligent, talented, creative, determined, fiercely independent, resilient, cantankerous at times – definitely redoubtable. She had many opinions which she expressed freely. She lived life on her own terms and was loved and accepted for it.
Maryella was thirteen years younger than her brother, Peter, and so was a 'surprise'. She was brought up in Ascot and spent eleven years at St Mary's Convent there, where she converted to Catholicism – her faith being an important feature of her life. AS a young woman, she began work at St Bart's hospital as an almoner. Here she met her husband, Francis, a charismatic and dashing young doctor, but, having had four girls, the marriage did not last. Being a Catholic divorcee and bringing up four lively daughters as a single parent in the 1960s was not easy. In the mid-70s, she made the decision to move her young family from Berkshire to Trewoofe, which had been the home of her beloved Aunt Ella and Uncle Charlie. Here, she extended the house and created a wonderful garden. "With vision, she designed flowerbeds to give shape and height, colour and focal points and she systematically chose plants to bloom throughout the year. She was a lifelong plants woman who often knew more than the garden club lecturers. Her fruit and vegetable garden was also subject to rigorous research. Apples were cordoned, and espaliered, fruited for four months of the year, included local varieties such as Cornish Aromatic, as well as cookers, early and late keepers". She pursued a life of self-sufficiency and was practical and frugal to the extreme, she also believed in sustainability and what is now called upcycling and recycling.
Her daughters commented, "She kept extensively records for decades; she has notebooks filled with her expenditure she first received an allowance in her teens. One can discover what she spent on each of us during our childhoods, what was in her freezer in 1968, how much rain fell in June 1997 or how many plants were in bloom on new Years Day in 2002. She rarely threw anything away. Last week, we found a handwritten recipe book of Aunt Ella's dated 1909 and, bizarrely, 17 empty tissue boxes.
Her passion for antiques, especially ceramics, led her to working part-time at Lay's Auction House. She bought and sold many pieces over the years. At one point she had collected as many as fifty teapots.
She gave her time and energy to a variety of local causes. For many years she fundraised for the hospice movement and the creation of St Julia's in Hayle. She was member of the Friends of Penlee Committee during its transformation to the modern gallery enjoyed today, and was still stewarding at Penlee until two years ago. She was active in the WI, and the Lamorna and Peninsula Garden Societies as well as The Lamorna Society. As we all know, she hosted teas and gave house and garden tours to fundraise for these and many other organisations, and a walk round our Lamorna Artists' Trail was always capped off by a visit to the atmospheric studio at 'Trewoofe', where we could view paintings and craftwork by the Napers and their close Lamorna friends and delve into her store of knowledge. By paying for John Bradfield to write a joint biography of Ella and Charlie, filled with images of their work, much of which was in her own collection, she ensured that their distinctive and important contributions to the art colony on both artistic and social levels were properly recorded for posterity. She also made very generous donations of art and craft work and ephemera to Penlee House Gallery and to our own archive.She was much loved matriarch to an extended family, which included twelve grandchildren – almost anything was acceptable during their raucous playtime in the garden as long as nothing went in the flowerbeds and no sand was brought into the house. "She and Trewoofe were the taproot supporting geographically separated families, enabling her grandchildren to form lasting ties".
As her mobility declined and age made her life challenging, she could be heard saying to herself, 'Come on you cowpat'. Her tenacity and independence stood her in good stead, enabling her to stay in her beloved home with the help of very supportive neighbours and attentive daughters.
The eulogy concluded, "Just as her arrival was a surprise – so was the swiftness of her departure. On the 1st of January the family joked about her new year's resolutions and when she intended to get to her 'cloud in the sky'. A week later she was on her way there, having succeeded in her ambition of not 'making 90'. She had the best death – in her own bed, cared for by her daughters, surrounded by those that loved her, at peace. Her last words were "I want to go home".
Maryella's family knew that it was her wish that if at all possible, Valerie Powell should be at her bedside at her death, as she had been present at the death of Ella Naper on 9th August 1972. This was because, having trained as a nurse, Valerie had wanted a change of scene in 1971 and had worked for Rowena Cade at the Minach theatre. When at the end of the season, she opted to stay on in Cornwall, finding work at Edward Hain Hospital in St Ives, she needed winter lodgings and had been recommended to Ella by Rowena Cade. The arrangement worked well with the 80 year old and the 20 year old getting on well, whilst Ella had someone in the house at night-time. Valerie commented, "I was entranced by her delicate watercolours of flowers, jewellery and enamel work and her connection with Laura Knight". The next summer, Valerie decided to do a midwifery course in Truro and so was not around so much and Ella was helped by her old friend, Irene Wellington, a calligrapher. However, on Valerie's return from Truro that August day, she spotted that Ella was unwell and had called the doctor. However, later that afternoon, Ella died peacefully with Valerie and Irene in the room.
Valerie commented, "Maryella had often joked that she would like me to be there when she died as I had been with Aunt Ella and so it came to pass that the family knew to call me. I returned to the house which holds so many memories and was privileged to be there to support Maryella and her family at the end when she died in the same bed and in the same room as her aunt had fifty-one years earlier! She passed gently and peacefully with her family at her side and in the home she so loved".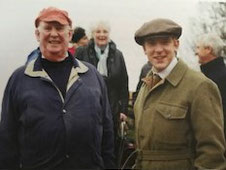 David Evans (1938-2020)
David has been a key figure in the Society from the very beginning. A founder member, he was also the first Editor of Flagstaff, from 1997-2003, and since Adam Kerr's death in 2016, he has been Patron of the Society.
However, David has also played a huge part in getting the Lamorna colony of artists known on the national and international stages, not only through his extensive series of lectures on aspects of the colony, but also with his collaboration with Jonathan Smith, which led to the publication in 1995 of the enormously successful novel, Summer in February, later, in 2013 made into a film. Accordingly, all members will be aware that David's father, Gilbert Evans (1883-1966), was the land agent to Colonel Paynter between 1909 and 1914, but having been close to Florence Carter Wood, the unhappy wife of his best friend, Alfred Munnings, decided in April 1914 to take up a post in Nigeria, only to hear some three months later of Florence's suicide…
Those older members, still with Issue 3 of Flagstaff, will find in there a detailed account of David's reminiscences of his childhood including his memories of 'Boskenna'… Those members who joined the walks around Lamorna to view artists' homes and studios will recall priceless tit-bits that David would drop into the conversation, recalling various interactions with the artistic fraternity, funny stories or naughty japes. It was such tales that brought the personalities alive and gave a much better feel for the way of life the artists led. It was his ability to incorporate snatches of personal experience which made his lectures so popular, and he was very generous in sharing the extensive knowledge that he acquired on the Lamorna artists, and in particular, Alfred Munnings and the Knights, with members at gatherings of the Society.
Jenny Hand and Marcia Whiting of the Munnings Art Museum wrote, "The Munnings Art Museum were greatly saddened to hear of the passing of David Evans on 8 April this year. David had a continuing link with the Museum over the years because of the association between his father Gilbert Evans and Sir Alfred Munnings when both were living and working in and around Lamorna in the early part of the 20th Century.
David visited the Munnings Art museum on Several occasions with his wife Christine. In May 2002 he gave an illustrated talk on the life and work of Sir Alfred Munnings ahead of a visit to the Museum by the Lamorna society. He also visited the Museum in May 2013, the year in which Summer in February the film of the book, by Jonathan Smith, was released.
His most recent visit was in March last year, when the Lamorna Society stayed in the area for a weekend. After a morning tour of the Museum, David gave a very personal and insightful talk on his father Gilbert Evans, Munnings and other Lamorna artists. This was much appreciated by many of the Munnings art Museum Stewards, who were invited by the Lamorna society to hear David's talk."
Michael and Ginny Potts, Lamorna Society members wrote, "David was such an inspiring speaker and authority on anything to do with Lamorna. We loved to hear him talk about the artists and his father, especially in relation to the book and film Summer in February. We will always think of David and Christine as good friends to all of us and such wonderful company".
(The Flagstaff Issue No 45 Summer 2020)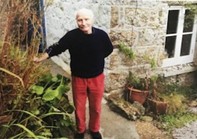 Keith Gardiner (1934-2020)
Keith was the son of the artist, Stanley Gardiner, who first settled in Lamorna in 1922. In The Flagstaff Issue 2 (Autumn 1998) Keith recorded how his father had walked over the farm track from Mousehole on a beautiful Autumn day and, on first coming out from the quarry path into the cove, had thought that he arrived in a painter's paradise. "The sea was as blue as only a Cornish sea can be, the rocks on the shore were shining in the strong sunlight and bracken on the cliff was already turning to Autumn colours. To complete the picture, there were two or three artists at easels in the cove". One of these was John Birch, who told him of a cottage, 'Lily Cottage', that would soon be available to let, and Stanley had no hesitation in taking it. Given that he has a secure teaching post in Reading, the idea was to try out Lamorna for a few months. In the end, his wife and himself never left and, accordingly, for close to one hundred years, the Gardiner family, in 'Lily Cottage', have been a key presence in the valley.
During his childhood, Keith was great friends with Adam Kerr, with whom he went sailing, and he also knew Angela Wheeler, and a number of escapades have been reproduced in earlier issues of The Flagstaff, e.g., Issue No 14 Winter 2004. Keith initially went into the airforce, and then the merchant navy. He married Christine Anne Palmer on 1 April 1961 at St Mary's Church , Penzance. In 1967, after a few years living in a flat in Mousehole (an on the completion of an extension being built at 'Lily Cottage'), the family moved back to Lamorna to join Keith's mother, Bertha, in 'Lily Cottage'.
Keith was a founder member of the Lamorna Society, following the Exhibition of SJ Lamorna Birch's work in Falmouth, and led the walk around the artists homes and studios that seminal weekend. He had heard much about the earlier artists from his father. He published memories of his family's time in Lamorna in a Painters Paradise in c.2008. Keith enjoyed painting himself and his wife Christine, who died in 2010, as well as an enthusiastic and good cook, led the Lamorna Valley art group after Mornie Kerr's death. Both were much valued members of the Society.
Hugh Bedford wrote "I and my wife were lucky enough to get to know Keith well over the past 30 years mainly through our shared interest in art and we shall carry forward so many happy memories of the time spent with him. Few people knew more about the Valley and the stories of yesteryear; he was always the same – calm, kind and a gentle gentleman with an impish sense of humour. One of his lasting legacies will be the starting of the walks following in the footsteps of the artists who lived and painted in the Valley. Going around with him and picking up stories which we will always remember and have repeated many times – from Flagstaff Cottage overlooking the Cove up to Oakhill, the home of Laura and Harold Knight, then onwards to Trewoofe where Margaret Powell would always appear at her front door to produce one of her cameo performances…."
(The Flagstaff Issue No 45 Summer 2020)

Austin Wormleighton (1937-2019)
Without Austin Wormleighton, there would be no Lamorna Society, for it was the gathering together, at the 1997 major Lamorna Birch Retrospective Exhibition at Falmouth Art Gallery, of the contacts that Austin had made during extensive research into the artist's life that led directly to the formation of the Society. Accordingly, as we mourn his death, it seems only appropriate that the Special Issue of Flagstaff should be devoted to a celebration not only of his input and influence upon the Society, but also of his life and his careers as both journalist and art historian and of the special qualities that made him the most personable and humane of men. He will be missed not only by family and friends, but also by many in the society. We all owe him a huge debt of gratitude for starting what has become an enormously successful and enjoyable undertaking. Austin generously donated his Lamorna related research to the Lamorna Archive.
One of many personal reminiscences of Austin Wormleighton by Lamorna Society members –
David Evans wrote "It must have been in the early nineties that Christine and I were invited to a preview at Christies of Modern British Paintings. There was huge landscape by SJ Lamorna Birch there, of the Lamorna Valley, painted from the east side of the valley somewhere north of Castallick. In it I could see my mother's house, Oakhill cottage. Standing next to me was a well-dressed man of about my age who commented what a really splendid landscape it was. I pointed out my mother's cottage; he asked who my omther was and I said that it was Joan Evans. He was most excited and told me that Mornie Kerr had taken him to see my mother's collection. We introduced ourselves and after that we were in correspondence with him, providing various bits of information for the book, A Painter Laureate, that was published in 1995. This was my first meeting with Austin, and this was a friendship that I came to value greatly. Little did I know at the time that it was because of his work and amazing research on Birch, that our splendid Society would come about.
It was following the exhibition of works by Birch at Falmouth in 1997 that Austin arranged a walk for people who were interested, around the Lamorna Valley and it was there at the end of the walk that two or three people stood under a tree with Austin and the Society was formed. What could have been an end, was in fact a beginning."
(The Flagstaff Wormleighton Memorial Issue September 2019).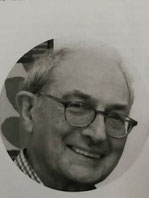 Hugh Heaven 1944-2019
Bob Mason wrote "It was with great sadness that we learned of the passing of Hugh Heaven on 6 September. I had the great pleasure of meeting Hugh when he was working as a volunteer at the city's Museum and Art Gallery when I was arranging the Society's Spring visit to Birmingham in 2012. When I explained to Hugh that we were interested in Cornish art, he could not have been more helpful immediately agreeing to cancel his day off and conducting the tour for us. As he showed us through the various galleries, we all warmed to his generous smile and lovely singing Welsh accent. Hugh and his wife, Barbara had a deep love for Cornwall and visited every year, so it was not difficult to encourage them to join our Society. Hugh subsequently served on the Committee and was       a valued member especially with his sense of humour. Barbara had a significant fall and was badly injured. Hugh then found that he was unable to continue with committee duties.
(The Flagstaff Issue No 44 Winter 2019)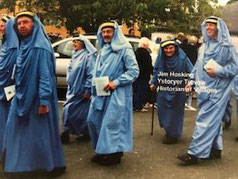 Jim Hosking (1927-2019)
Members will be sad to learn of the death of Honorary Member, Jim Hosking, whose local knowledge was unrivalled. He was a great character, with a lovely Cornish accent, who had been involved with the Society for many years- he was member no.36- and was elected a Bard of the Cornish Gorsedh (1979) in recognition of his research and numerous publications, which included Boskenna and The Paynters.
Pam Lomax, The Lamorna Society Archivist, wrote "Jim Hosking wrote books about West Penwith for at least half a century and his personal knowledge of the second half of the twentieth century in this far tip of the country must be the envy of many family historians. That is why his bardic name is 'Yestorer Trevow' or 'Historian of Villages'. My favourite book is Cornish Connections because he was personally linked to all the stories that are told. Those stories include Jim's acquaintance with Dustin Hoffman and the film crew that came to make Straw Dogs in St Buryan in 1971, and the war stories about Spies, Zeppelins, Chutrchill's Secret Army and Mollie Hattam's wartime memories. Everything in the book has a personal connection. We are guided through brother Harold's chance meeting with a Tregurtha in San Diego, USA to Jim's follow-up research that identified him as a long lost relative; we are shown a picture of Jim's grandma Annie Martin nee Giles, who was one of the first women to serve on a jury. The book is also full of photographs. I particularly liked the photographs of the first Gorsedh held at Boscawenoon Circle in 1928, when Emma Hosking, Jim's mother 'minched' from school, 'cutting down through the fields behind Pridden' and getting there before the dignities arrived."
(The Flagstaff Issue No 40 Winter 2017)
Stephanie Dingle (1926-2017)
Austin Wormleighton, our President, wrote, "It was with deep sadness that we heard of the death of Stephanie Dingle, a dedicated artist and member of the Society since its formation. Stephanie died on Christmas Eve last year at her home in Micklethwaite, Yorkshire. She was 91".
Her many years as a painter had earned Stephanie the epithet 'The Grande Dame of Northern Art'. Her characteristic small 'snapshots' of life observed on her travels around Britain and the Continent were promoted with vigour by galleries in Manchester and north of England and Stephanie built up a dedicated following of her work. She took up painting seriously as counter to ill health from which she suffered acutely. She studied at Warrington School of Art and was a pupil of William Ralph Turner (1920-2013), a Manchester-born painter who had known LS Lowry. This friendship gave Stephanie the perfect conversational gambit (tongue in cheek) that she had been taught by a man who had been taught by Lowry.
Stephanie and husband Graham, who died in 2016, were a natural 'fit' as members of the Society. They both loved Cornwall, but Stephanie's grandfather had known Lamorna Birch. How remarkable it was, then that while on a painting holiday in St Ives in 1997, they should have stumbled across a Lamorna Birch exhibition in Falmouth. Soon afterwards they signed up eagerly to the Society when it was formed and did much in their quiet ways to help people shape the things we enjoy today.
Diana & Tom Harker, who like the Dingles, were founder members of the Society, wrote "It was a great pleasure on joining the Lamorna society, as founder members, to meet Graham and Stephanie Dingle. The Society had just formed, and we all met up for some lovely art-related days in different parts of the country- the Wirral, Sussex, Derbyshire, the area around the Deveron River – and all these had a link with the life and work of John Lamorna Birch. We always enjoyed meeting the Dingles at these locations, so carefully selected by Austin and soon realised how talented an artist Stephanie was. Her paintings, being bold and original, with a memorable sense of colour, were much admired at a number of exhibitions- we particularly remember the one at Warrington. With her youthful enthusiasm, friendliness and bright eyes, she was a joy to be with. She will be much missed."
(The Flagstaff, Issue No 37 Summer 2016, Issue No 40 Winter 2017 & Issue No 41 Summer 2018)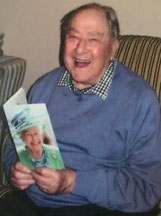 Jack Osborn (1916-2016)
Jack Osborn celebrated his 100th birthday on 10 January this year and the photo shows him in excellent cheer as he holds the card received from Her Majesty the Queen. He was a remarkable man.
(The Flagstaff Issue No 37 Summer 2016)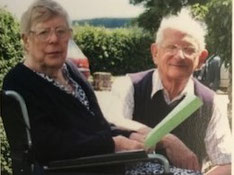 Graham Dingle (d.2016)
Austin Wormleighton wrote "Graham Dingle, was part of that now shrinking band of enthusiasts who helped form The Lamorna Society in 1997. Austin Wormleighton recalls how Graham and his wife, the painter Stephanie – known to us all as Steph – came into our lives and the legacy Graham left.
It was an occasion of pure serendipity. Graham and Steph just happened to be on holiday in Cornwall in the Summer of 1997, travelling from their home in the north. They also happened by chance to spot the Falmouth Art Gallery were promoting a retrospective exhibition of Lamorna Birch's work and decided to visit it because, quite apart from their interest in art, Steph's grandfather had known Birch. And when again quite by chance they bumped into me in the Gallery, Steph was eager to tell a remarkable tale.
She told me that her grandfather Bateson was walking his dog in Lancashire when he witnessed an unprovoked assault by a stranger. The dog had turned on the assailant, however, driving him away; and when Birch heard what had happened, he painted a portrait of the dog as a mark of his admiration for its brave deed that day. Steph told me she now owned this picture.
If only they had known about the Falmouth exhibition, Steph thought the painting might have been accepted as an exhibit or maybe used as an illustration in A Painter Laureate my book on Birch's life on which the exhibition was based. But if they felt any sense of disappointment on that account, they surely made up for it later on. For the last year some of Steph's paintings were exhibited in that same Gallery.
Over many years, Graham and Steph were ever present at annual meetings in Lamorna, and on our Spring weekends away, visiting galleries and museums, even though these visits meant difficult journeys from their home, often with a caravan in tow. And both spoke up strongly in support of the Society with Graham serving for a time on the Committee. As circumstances changed, their presence at events became less frequent and, faced with poorer health and advancing age, both had to slow down. But it was all delightful in retrospect 'We did have a very enriched life as a result of the Lamorna Society,' Steph told me. 'And it suited Graham well because he loved Cornwall so much.'
Graham was proud of his West country roots. He grew up in Plymouth where his family were associated with the Dingles department store in the city. It came as no surprise to discover that his house in Warrington was called Linkinhorne after the Cornish village connected to the name Dingle, or that he and Steph should have wanted to celebrate part of their 60th wedding anniversary in Lamorna…"
(The Flagstaff Issue 37 Summer 2016)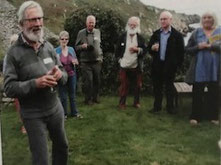 Adam Kerr (1933-2016)
The funeral of our first Patron, Adam Kerr, was held on 16 August at the Parish Church of St Pol de Leon, in Paul village. He was a well-loved and popular man, grandson of the artist Samuel John 'Lamorna' Birch. The church was filled with people who came together to pay tribute to Adam as a family man, a sailor and a loyal friend.
David Evans wrote "The Evans family connection with the Birch Family goes back to November 8th1909 when my father Gilbert Evans had dinner with the John Birch and his wife. This long relationship continued with the arrival of Adam in Lamorna in about 1942.
Mornie Kerr and her son Adam were in Mousehole at the time of Mrs Birch's death and came soon after to live with John Birch. Adam's father, Jimmy Kerr, was away as an officer in the Royal Navy. Adam and my brother Tim immediately became friends which lasted until my brother's death in 2006 and Adam gave a memorial address at his funeral in Reading.
Soon after Adam's arrival in Lamorna, a gang of young boys got going with Adam, Tim Keith Gardiner and me, with Adam always the leader… We did some sort of things that boys do, not all of which were beneficial to mankind! … Adam's father, Jimmy Kerr, bought a boat for him; it was a clinker, built ex-Navy lifeboat about twelve feet long, and Adam and Jimmy fitted it up with a standing lug sail; she was called 'Fulmar'. Adam very generously shared the boat with us and before long Mr Freeth who lived in the gunpowder house on Cove Hill, lent us his Seagull outboard motor on a more than permanent basis, which was good for fishing trips. I caught my first fish on one of these: I was in charge of the spinner over the back of the boat as it went along; I felt a pulling on the line and pulled it in and as I lifted it over the side, there was a lovely silver bass. Adam patiently showed me how to remove the hook from the fish. In later years, using feathers we used to catch quantities of mackerel, which we took to Newlyn market.
Adam in his career became a very distinguished Hydrographer and was one of three joint Chairmen of the International Hydrograph organisation in Monaco. On retirement, he received a Knighthood of the Order of St Charles, from Prince Rainier of Monaco.
My memories are of a man of action with great skills of leadership; we shall all miss him".
Angela Wheeler wrote "So many happy memories came to mind when hearing the sad news of Adam's death. Cricket in the evenings up at Kemyal Farm, fishing from the quay in the Cove and in Adam's boat, 'Fulmar', and taking fish to Monica Baldwin at the Magazine Cottage on the hill for her cat, draped around her shoulders.
One day Adam could see a white object floating in the sea towards Cahn Dhu, so we sailed out to see it and Adam was just about to poke it with an oar, when it turned over and we realised it was a basking shark.
An unforgettable day, with the sun shining and the sea calm, as it always seemed to be, was when Adam took four of us in 'Fulmar', and my parents with the picnic went by car to Pednvounder Beach near Porthcurno. What fun we had, mainly playing cricket with the Logan Rock in the background. The return trip started out alright, but just beyond Logan Rock, the outboard gave up, so we had to row. Fortunately, Adam knew a fisherman living in a nearby cove, so we went there for help and he kindly repaired the faulty outboard motor. It took a while and by the time we chugged back into the Cove, it was dark. There on the quay were our anxious parents waiting and calling to us. No mobile phones in those days. They were very relieved to see our safe, if very late return.
Such happy teenage Summers in Lamorna -thank you Adam.
(The Flagstaff Issue No 38 Winter 2016)
John Evans (Tim) (1934-2005)
Adam Kerr wrote "John Evans was Tim to those with whom he grew up in West Cornwall… He spent his childhood in Lamorna…His Father, Gilbert, … was Land Agent for the Boskenna Estate from 1909 to 1914 and during that time he established many enduring relationnships with the Lamorna artists' colony…Tim and I, plus David and various friends, including Keith Gardiner grew up together in Lamorna, an idyllic life, with much time spent by Tim at Tregurno Farm and in my own case in the Cove and out in the boats. From time to time we exchanged these activities, and this resulted in Tim growing up working in the agricultural field but also with a great love of boats and the sea. Our childhood years also coincided with the war and although West Cornwall was virtually unscathed there were military activities, such as commando exercises on the cliffs to excite us. Tim was somewhat of a leader in following such pursuits, rappelling down the steepest cliffs, much to his mother's concern.
…Tim went onto the University of Reading where he studied agriculture and met Jill, his wife to be. Me was married in 1`957. At the time National Service was still in force and he joined the Royal Artillery. Then he joined the Ministry of Agriculture as an Agricultural Advisor. His first posting was in Lincolnshire. Later they moved to St Clares in Carmarthenshire and later to Brecon. Our paths crossed again because I, who followed the sea as a profession, found myself for a year at the University of Wales in Cardiff. This was an opportunity for much family togetherness, not to mention some good times in The George at Brecon! Tim and Jill both loved singing and were active in the Brecon Cathedral Choir…
Their final career move was to Reading… We had hoped that they might have moved closer to Cornwall but the move to Reading turned out to be a very convenient stopping off point on trips between Cornwall and Canada.
As noted earlier, Tim had a great love of the sea. During his life to that time he had taken many opportunities to sail on shorter trips, but in 1981 I invited Tim to be one of the crew on a sailing trip from Nova Scotia to Crew… This really sealed Tim's interest in the sea and after having a triple-bypass operation in 1989 he decided that further work as a civil servant was not for him and that he would go sailing. To that end he bought a 36 foot yacht in Malta and stationed himself and the boat in the Ionian Sea. There he spent the Summers of most of his retirement years…
The words 'celebration of the life' are today often used instead of sombre funeral service and few can be said to have so enjoyed their life as Tim. His early years in Cornwall and particularly Lamorna, had a profound effect on him. His love of the land and of the sea were integral to his existence. He had a strong interest in maintaining his family as a unit. As much of this is an obituary about Tim, it is hopefully a story about the close relationship between two families growing up in that environment.
(The Flagstaff Issue 15 Summer 2005)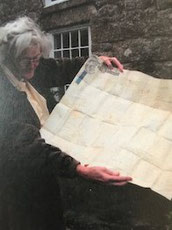 Margaret Powell (1923-2014)
 Margaret Powell lived at Trewoofe for many years and expressed herself both as an artist and writer. She was the author of a life of her ancestor Charles Napier Hemy and also a history of her own ancient home at Trewoofe, near Lamorna. As an exhibiting artist she showed small stoneware and terracotta sculpted figures. She exhibited with the Lamorna Valley Group.
The Indomitable Margaret Powell: a personal memory, Pam Lomax wrote "How did we come to be friends with Margaret? I remember her talk way back in 1999 about Who Made the Lamorna Ingot? We had only recently joined The Lamorna Society, and she took us under her wing, inviting us round to her place to meet a few Lamorna folk… One remarkable achievement was to find the original door of Trewoofe House and put it in place again. She describes how this came about in her remarkably well-written booklet Trewoofe: The Story of a Cornish House. The copy in the Archive is dated 1995. The house is certainly thirteenth century in origin and the original door had been missing for some 60 years when Margaret learned of its whereabouts…. Margaret was fascinated with the history of her home and when some yellowing, brittle vellum documents relating to the house were found in a small writing case in the cellar of a house in Breage in 2002, she could not wait to get her hands on them. There were two documents. She had the handwriting transcribed, the deeds photographed, and she sought professional advice on how to protect the original. Then she shared her discovery with friends in the Flagstaff…
She was full of ambition to rescue her Grandfather's paintings from oblivion in public collections. She was instrumental in the restoration of the paintings and spent considerable energy and time to seeing that they were properly exhibited. When the exhibition came to Falmouth, where Charles Napier Hemy had lived, she worked hard with Falmouth Art Gallery on the exhibition, and also produced a book Master of the Sea, which was published in 2004. Not content with that she continued her researches to bring to attention the remarkable work of her great aunt, Winifred Freeman who was also a painter of some distinction and another book followed, Winifred Freeman, published by Falmouth Art Gallery in 2008…
Time goes so quickly, and I cannot believe that we were amongst the family and friends that celebrated Margaret's 90th Birthday at Trewoofe House in July 2013. The house was decked out and there was a huge marquee outside. The highlight of the evening was Margaret's address to her guests. Indominable as always, she reprimanded her high-achieving offspring as none of them had followed in their Grandfather's footsteps to become a painter!"
(The Flagstaff Issue 34 Winter 2014)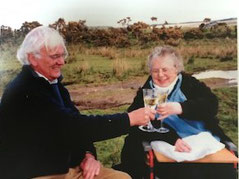 Sheila Hale (1935-2013)
Austin Wormleighton wrote "Sheila Hale: an appreciation. The Flagstaff is sad to record the death this year of Sheila Hale, a founder member of the Society and its first Archivist in 1999. Sheila made a weighty contribution to the Society in its fledgling years, joining the committee and volunteering – without too much prompting – to construct from scratch the beginnings of our archive on art and literature of Lamorna.
Building an archive was one of the Society's founding objectives and Sheila tackled the work with characteristic enthusiasm, eagerly recording and collating the material that poured into her home in Chichester from Society members and friends. Sheila had long taken an interest in art, keeping files and records of picture and painters, so the work was really an extension of something she had already been doing since the 1960's.
'Her love was English art from 1880 to 1940 and she really took to the work of Cornish painters in that period' her husband Tom said. But it was a two-way enjoyment because Sheila soon latched onto other people's interests and, in the yearts I knew her, there was a welcome flow of cuttings from Chichester of artists and writers in whom I also had a particular interest. When David Bradfield was writing his biography on the painter RC Weatherby, he regularly telephoned Sheila to talk to his 'font of all knowledge'.
Sheila's only reservation about taking on the archive was whether she would be able to sustain the effort, not because of lack of will but because her health was then already failing. Sheila had suffered from rheumatoid arthritis since the age of 49 and, in 2002, she reluctantly passed the Lamorna Archive to the present archivist Pam Lomax. The enduring memory of Sheila will be her humour and cheerfulness in the face of so much adversity. Few people ever saw her glum or dispirited and she would talk about anything rather than her crippling illness.
(The Flagstaff Issue 32 Winter 2013)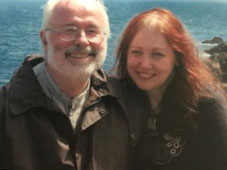 John Nash (1944-2012)
Mim Nash and the Nash Family wrote "Born in Kent John was a clever and artistic child who loved reading, drawing and nature. He became a very highly accomplished lettering and commercial artist in demand by many top London agencies. In the 1970s, along with four colleagues, John began an independent art company which he ran successfully for several years. He later joined a top advertising agency finishing his London working life as a consultant.
John and his wife, Mim and family lived in Kent in a rambling old Tudor farmhouse with a collection of animals including dogs, cats, rabbits, and a horse enjoying village life, but their future lay in Cornwall, a place Mim had fallen in love with as a child.
John and Mim had successful careers but wanted to live a simpler life devoted to art and writing and as John said, 'treading more lightly on the earth'. Following a family holiday in the early 70s John also fell in love with Cornwall they became determined to live here…in 1999, they bought a cottage and pottery studio near Lamorna…
John re-established the studio and their ceramics and paintings have now sold worldwide. John's two books, written and produced in their studio, The Potters' Tale and The Minack Chronicles Revisitied are still receiving very favourable reviews.
John had many interests, was active in several local societies and was also a committee member of several; in particular: CASPN & FOCAS; Coethas Perran Sans (Fellowship of St Piran); The Lamorna Society; The Lamorna Valley group of Artists; Old Cornwall Society; The Friends of Minack Chronicles, of which he was Chairman; PAROW; Penwith Pagan Moot. John was very of Minack Chronicles, of which he was chairman; PAROW; Penwith Pagan Moot. John was very active and dedicated member of his local parish church in St Buryan as treasurer, reader and server. His many friends from all paths of spirituality will miss his wise and intelligent outlook on life and contribution to many lively discussions…"
(The Flagstaff Issue 31 Summer 2013)
Mary Bowling (1927-2010)
Austin Wormleighton wrote "Mary Florence Dowling, who was a member of the Lamorna Society from its earliest days and ever ready to promote its work, died at her home near Lancaster. Her family connections with Lamorna Birch made Mary an enthusiastic and knowledgeable member of the Society.
She was daughter of Alan Storey, a director of Storey brothers, the former industrial conglomerate of that name in Lancaster. The Storey family were philanthropists and patrons of the arts and did much to propel the painting career of Lamorna Birch in the 1880s when he was working in a mill at Halton, north of the city, and painting only part-time, and later when he was an established artist.
 Some members of the Society will recall the delightful hospitality Mary, and her late husband Geoffrey, dispensed at their home on the Halton Park Estate in the late 1990s during a Spring weekend visit to the Lune Valley. The Bowlings had an important collection of Birch's work and Mary's family had probably bought and commissioned many of the pictures we saw at that time.
In 2005, Mary was among members of the Society who visited The Lowry in Salford to see the exhibition Shades of British Impressionism which marked the 50th anniversary of Birch's death. Mary was not slow to encourage an interest in Birch within her own family and, when one of the grand-daughters at school in York began asking questions about Birch's work, Mary encouraged her, with the help of The Lamorna Society, to undertake a long and carefully-crafted dissertation of Birch's painting for an art examination. Mary had been a magistrate, a district councillor and long-standing supporter of the British Trust for Ornithology. Her nephew Giles Bowring described her as 'an amazing person, whose life of service to others was the stuff of legend'.
(The Flagstaff Issue 32 Winter 2013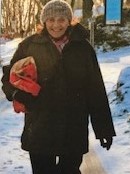 Christine Gardiner (1940-2010)
Adam Kerr wrote "On 1st October 2010, Paul Church was full for the funeral ceremony of Christine Gardiner. This is recognition of how many friends she had and how well known she was in the community.
For many years, Christine was the force that drove the Lamorna Art community. Taking over from Mornie Kerr, Christine organised and encouraged the group of painters that met every week in the Village Hall. She was an enthusiast, not only in the artistic field but also in much of the daily life in this little village.
We all knew Christine's special relationship with the sea. Swimming was a huge part of her life. Living with her husband, Keith, in Lily Cottage beside a stream and close to the Cove, she was forever heading down the road to the Cove for a quick dip. She was always first in and last out leaving the rest of us shivering on the brink. She particularly loved the rock pools where in the suntrap of the old quarry she spent many happy hours. On some fine summer days, you would see her swimming way out in the Cove, seemingly impervious to the cold…
In later years, we would laugh about Keith and Christine's plans to leave Lily Cottage for some utopian locations where everyone was friendly and there were no trees to block the sun! We never felt that Keith could be dislodged from Lamorna but he gamely went along with Christine's enthusiasms. Probably Christine herself would never have agreed that anywhere was as good as Lamorna and Lily Cottage. In these days when everyone seems to be on the move, Keith and Christine have been a firm pillar of the community and she will be greatly missed".
Pam Lomax wrote "I met Christine through The Lamorna Society and immediately warmed to her. Perhaps we had something in common, as we had both been teachers. Before she came to Lamorna, I believe she lived in Penzance, and given the similarity of our ages, I guess our young days would not have been very different. I imagine her taking full advantage of the Winter Gardens Ballroom at Wherrytown as I did the Streatham Ballroom.
I found her such an enthusiast. I was one of the people she asked to take part in the Art Group in the Lamorna Village Hall. It was such fun and I only stopped going because things took over. I never managed the dip in the sea at Lamorna cove and I regret this because I too was always in the sea as a girl and younger woman. I loved her dinner parties at Lily Cottage, the long table weighted down with goodies and afterwards the fire, comfortable seats and keeping a watchful eye on driver Ron and Keith's whiskey.
I admired her painting; I think she was very gifted with a wonderful fresh style. I own several of her watercolours, which I treasure along with the more famous artists represented in our collection of pictures".
(The Flagstaff Issue No 26 Winter 2010)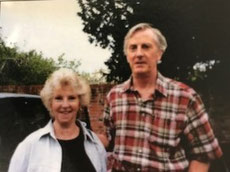 David Bradfield (1940-2010)
David Tovey wrote "It is with great sadness that The Lamorna Society dedicates this edition of The Flagstaff to David Bradfield who died at his home in Oxfordshire. His great presence in the life of the Society was very clear when I looked through the Archive for pictures of David. I was reminded of his very broad interests, as I thumbed through the two articles that he published in Flagstaff about the census in Lamorna and I was reminded about his lectures about Weatherby, which of course eventually came to fruition in his book".
David Baxendale knew Dave for more than 40 years and he wrote "We met 6 October 1969, my first day at work at the Esso Research Centre… I immediately felt welcome; we became friends on that day and Dave, Carole and their three children were close family friends from then on. He left Esso in 1974 to join an equipment manufacturer as mechanical engineer in the offshore industry. In this role he travelled the world, mainly in the Middle and Far East, developing cryogenic systems for oil and gas platforms…
He spent much of his early life on a country estate six mile out of town, where he developed a life-long passion for natural history. He was also fascinated by history in its other forms and he took a particular in Kathryn's Lamorna connection and our modest collection of Lamorna Birch's paintings.
When Dave and Carole heard of our involvement as founding members of The Lamorna Society, following Austin Wormleighton's 1997 Birch retrospective in Falmouth, they were keen to be part of it. So, in October 1998, the four of us attended the inaugural, and fondly remembered, AGM at the Queen's Hotel in Penznace, and Dave and Carole were in! As time passed, Dave joined the committee and eventually, after much arm-twisting, replaced me as Treasurer in 2004.
Dave was a kind, gentle rock-solid friend whose qualities, I am sure, were apparent to all those who knew him. His attitude to losing a leg in a motorcycle accident at nineteen personified his stoic and unsentimental nature. He was part of a large and loving extended family in South Oxfordshire and Wiltshire and he will be greatly missed by us all."
(The Flagstaff Issue No 25 Summer 2010)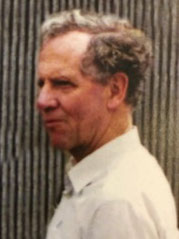 John Wheeler (1933-2009)
This issue of Flagstaff is dedicated to the memory of John Wheeler who died on 15 March 2009.
Austin Wormleighton wrote "John served the Society in many important ways since its formation twelve years ago. We will miss his painstaking analysis of problems, his kindness and optimism but most of all his steadfast support that helped us to overcome so many of the difficulties in our fledgling years.
When Angela helped to form the Society in 1997, John a teacher of Mathematics, joined her at the helm, working tirelessly to put in place the secure foundations on which the Society finds itself today. He was a committee member throughout and held key positions, including that of secretary. John had long been aware of Angela's interest in the Lamorna colony of painters, but it was not until the Society was formed that he plunged into a previously unexplored world of art and art history. It was to become an important part of his life. 'The Society really meant a great deal to him,' Angela said.
… John taught Mathematics at Cheltenham College for almost 20 years and was housemaster there for 10 years… he was so highly regarded as a teacher that Cheltenham College asked him to continue after retirement age. So, for five years John taught part time at the College and also at the nearby St Edwards School… The love and admiration of his peers and his pupils made John not unlike Mr Chips, the legendary school master of the novel by James Hilton. The author Howard Spring said of the character of Mr Chips 'Never have I known more beautiful rendered a man at such perfect peace with life.' That of course, was also the John we knew…
John was born in Taiping, Malaya, where his father was an inspector for schools with the Colonial Education Service. The family returned home to Sussex before the start of the Second World War. After attending Clifton College John did National Service in the army and then went up to Queen's College, Oxford, to read Mathematics. While at university he worked with the Oxford Colleges Christian Union. After a spell teaching in London, John joined the Overseas Missionary Fellowship in 1960 where he met Angela. They went to work in the Philippine Islands and they were married there in 1962…
 But chess was only one of many recreational interests. You could not be in John's company for long without understanding his passion for sport, cricket especially, but also hockey, rugby and soccer …or that John enjoyed playing with words and the complexities of crossword puzzles; and of course, solving Mathematical riddles… John liked to cycle everywhere, not only along the busy A40 to school but into the countryside with sponsored rides to raise money for historic churches in Gloucestershire. And then there were more physically demanding rides, memorably from Lands End to his home and from his home to destinations such as Hampshire…
It was not only cycling and gardening that defined him as an outdoor man he was also a formidable walker as anyone who has taken part in the Society's Spring weekend events could testify! ..."
(The Flagstaff Issue No 23 Summer 2009)
Helen Lane (1920-2005)
Angela Wheeler wrote "There was standing only at Cheltenham Crematorium yesterday for the funeral of 85 year-old Helen Lane, a member of The Lamorna Society… Helen's parents loved Lamorna and family holidays were always spent there. They became good friends with Charles Simpson and his family; Helen and Leonora corresponded for many years. Helen inherited a huge collection of Simpson paintings and those of Lamorna artists. Helen's house is called Lamorna, the paintwork is Lamorna blue as is the colour of her car and Lamorna china fills the kitchen and in recent years she has appreciated being given the first early Cornish daffodils.
Heeln joined the Lamorna Society in its early days. On one occasion when the committee met in our home, she came up for a cup of tea afterwards. She was delighted to talk with us all, and particularly with Austin. It had been our hope that she would invite the committee back for a private view her paintings, but being a intensely private person this never materialised! For me, however, every visit to her home has been a treat.
In recent years communication became increasingly difficult, but a visit was always appreciated, and I would tell her about Society events and exhibitions etc. She was delighted to receive a copy of John Bradfield's biography of Simpson a few months ago. Her companion/carer told me yesterday how she had read much of it to her and also every copy of The Flagstaff when it came, both of which gave her interest and pleasure.
Perhaps Helen is typical of many Lamorna Society members who are unable to join us for events and are therefore unknown to most of us, but with whom we are closely linked by our appreciation of The Flagstaff and our love of all things to do with Lamorna."
(The Flagstaff Issue 17 Summer 2006)
Simon Anstey (1952-2005)
Simon Anstey, who died on 12 June at the age of 53, joined the Society with his wife June soon after its foundation eight years ago. In those demanding early years, he was the guiding light, helping to resolve constitutional problems but his true flair was as a communicator of ideas which he dispensed with passion, wit and humour.
Few of us in our daily lives will meet anyone more gracious than Simon.
He showed that if there was more than one way to approach something the chosen course was invariably the one that sprang from his bohemian nature. He arranged the Society's inaugural dinner at the Chelsea Arts Club eight years ago. That we should somehow have swamped the club with our presence that evening was hardly surprising because Simon loved nothing better than a noisy dinner with friends.
But this was far more than just a supper party. It was a landmark occasion for our fledgling Society and Simon arranged it with meticulous care, even down to the menu, and designing for the cover of the menu cards his impression of Lamorna Birch and the Lamorna Valley, a place he loved.
One weekend during a Lamorna Society annual weekend – a time when press photographers were hounding Princess Diana- Simon was in the Lamorna woods watching June randomly snapping away with her camera. Simon quipped to everyone's amusement 'I'd hate to be a tree in this wood now that the paparazzi has discovered it.'
Simon studied art at the Byam Shaw School where he aspired to be a portrait painter. He was a founding director of Cadogan Tate, the art haulage Company, and although based in London for much of the time he and June broke free to Cornwall at least once a year, often for summer visits to Sennen Cove with their children Katherine and Alexander.
(The Flagstaff Issue No 16 Winter 2005)
John 'Tinker' Taylor (1922-2003)
A wartime hero, popular Pirates rugby captain, Penzance businessman and magistrates chairman, were just four of the fine chapters in his remarkable life. Mr Taylor's interest in the town continued despite leaving the district. He regularly visited Penzance as Chairman of the Sailors Institute Charity and was past president and life member of the West Penwith Cricket League. Taylor was cousin of our Chairman, Angela Wheeler, and joined The Lamorna Society shortly before he died.
(The Flagstaff Issue 11 Summer 2003)
Ina Lambe (1942-2002)
Austin Wormleighton wrote "It is with great sadness that we heard of the death of Ina Lambe…
Ina eagerly took on the job of membership secretary from the very start of the Society in 1997. In this role she was the driving force at the hub of our affairs, working in tandem with Barry, her husband, as secretary.
It was a job perfectly suited to the qualities she possessed in such abundance; her charm persuasiveness, her skills as an organiser, her humour, her energy and not least her passionate interest in the life of the Lamorna Valley and SJ Lamorna Birch in particular, to whom her family was linked.
The friendliness and fellowship we enjoy today as members is part of her legacy. Few of us joined the Society without also becoming Ina's friend; and certainly no member was allowed to drift along unnoticed.
Little wonder, therefore, that she regarded all members of the Society as her extended family, exchanging Christmas cards with many of us and sharing family news and events with a warmth that was characteristic of everything she did.
The gulf that she leaves at the heart of our affairs is enormous."
(The Flagstaff Issue No 10 Winter 2002)
Geoffrey Bowring (1912-2001)
Austin Wormleighton wrote "Geoffrey Bowring a firm friend and supporter of The Lamorna Society, died 30 September aged 89.
Geoff, as he was known to the Society, lived at Halton, near Lancaster, where Lamorna Birch lived and worked in his early years. Geoff's family home, Halton Park and the countryside around it, has an important association with Birch and his art.
The Society's first group trip up country in 1998 was to the Lune Valley, where Geoff and his wife Mary entertained us in a most generous way at Halton Park…
His wife, Mary, an enthusiastic member of the Society, is the daughter of the late Frank Storey, the Lancaster businessman who did much to help promote the art and career of Lamorna Birch.
(The Flagstaff Issue No 8 Winter 2001)
Daphne Wilson (d.2001)
Daphne Wilson one of our honorary life members died on 17 May. She had a lifelong interest in Lamorna and was always very appreciative of The Flagstaff and interested in the Society's activities.
(The Flagstaff Issue No 7 Summer 2001)
Ben Batten (1912-1999)
Barry Lambe wrote "Honorary member Ben Batten died peacefully 7 July 1999… His grandfather and father were fishermen: Ben was not and went from Newlyn to Westminster College in 1929, then to teach in Liverpool, returning to Newlyn in 1946 to take the headship of Mousehole School. In 1948 he was appointed to the English staff at Penzance Grammar School where he taught until retirement in 1972. He married Margery, his childhood sweetheart in 1938, moving into the house opposite Newlyn Art Gallery, in which Margery had lived since she was four years old.
Ben was elected Bard of the Cornish Gorsedd in 1980 and given the name Scryfer Gwavas – 'He who writes about the winter quarters', i.e. Newlyn. Apt. when one considers the number of works he has written on the Village. His first book was Newlyn Towners. Fishermen and Methodists 1800-1978, followed by Newlyn Boyhood. Walk Newlyn with Me, Newlyn Heritage, Newlyn of Yesterday, School on the Hill, Old Newlyn Speech, Newlyn, Penzance and the Pirates – a Rugby History and he was co-author of the history of our school Three Score Years and Ten.
His sporting passion was Rugby Union. He played in the 1930s for Newlyn and for the combined Penzance - Newlyn Pirates, later captaining the team…
… For me, his greatest gift was being able to talk off the cuff with no preparation, either to intimidate group or a large gathering… when one asked him about the Newlyn Lugger The Rosebud, which in 1937 sailed to Westminster, bearing a large petition and plans, hatched mainly by the artists, to try to prevent the clearance programme of much of Newlyn on the cliff. With no notes, no preparation, he provided facts, figures, anecdotes and humour, never pausing, never faltering…. Such perfect recall was recounted without hesitation, as if a prepared lecture.
Those members lucky enough to have heard Ben talk to our Society at the AGM weekend last year, heard his humility yet command. The fact that a man of 86 could deliver well over 4000 words without a note in his hand, holding an informed group in attentive silence, was remarkable."
(The Flagstaff Issue No 4 Summer 1999)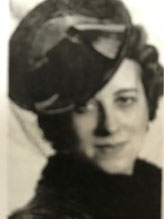 Greta Valentine 1907-1998
Austin Wormleighton wrote "The death of Greta Mary Valentine on November 6th1998 severed one of the last links with Lamorna Birch and the patronage he enjoyed in the 1930s and post war years. Greta, who was ninety-one, was among the most beautiful hostesses of her time, a close friend of John Birch and the wife of Birch's last patron, the Scottish fine art publisher, Ranald Valentine.
She was an honorary member of The Lamorna Society, which gave her enormous pleasure in her last year. She looked forward to receiving the Society's letters and keeping in touch with John Birch and his art. She had once owned an important collection of his work and many of these pictures were inscribed with her name beside Birch's signature.
Greta was a portrait painter, a poet, and an occasional writer on the mystical philosophy of Rudolph Steiner, one of whose schools she attended. It was as Greta Sequeira, daughter of a doctor of Portuguese descent, that she entered into the life of the Birch family in mid 1930s. Greta's parents rented a cottage in Lamorna Cove and over successive summers they became friendly with the Birch family. Greta was there in her late twenties, the same age as Birches own children.
Lamorna Birch was among many older men, mesmerised by Greta's beauty and over whom she was to exercise and irresistible fascination. She accompanied him on family picnics and on his painting and fishing trips and was his regular companion at private views of the RA summer Exhibitions at Burlington House. Birch would send her coded messages in his pictures. The inclusion of swans in a painting, for example, was by mutual understanding a symbol of affection for her. Greta was described their friendship as "a form of Pre-Raphaelite love, not at all physical but a love energised through our shared joy of art and poetry".
At the Café royal in the mid- 1930s Greta plunged into the noisy hearts of London's Bohemia and his friends Harold and Laura Knight and many others. But at the Café royal Greta also moved around the circle of Aleister Crowley, the notorious black magician and self- styled 'wickedest man alive'. Crowley openly declared his love for her and in August 1938 he followed her to Cornwall where they lunched at the Lobster Pot restaurant in Mousehole. Crowley had flirted with her on the walk to Lamorna and wrote in diary. 'Wooed Greta on the cliffs. She is a comedian. Will come one day and snatch'. 
She was born on 27th June 1907 and educated in England and on the continent. Her charm, incisive wit and love of excitement ensured that she could command attention wherever she went. She adored fast cars, driving a white Packard convertible in which she would speed along the old A30 from London on her frequent visits to Cornwall. Her generous instincts were demonstrated shortly before the outbreak of the Second World War, when she drove to Germany via Paris where the accompanying photo was taken in 1938. Her declared mission was to consort with the Nazis in Berlin to establish the whereabouts of Jewish doctors who were being persecuted. Thanks to her some of those doctors found safe refuge in England.
Even at the time when Lamorna Birch's reputation as a painter was firmly established, her social contacts and introductions were to prove invaluable to him. The Valentines were well known for their parties in Hyde Park Crescent, London and in Scotland, at Coupar Angus, where she introduced Birch to Sir Alexander Fleming, the discoverer of Penicillin, Willard Garfield Weston, the Canadian biscuit magnate and Barbara Hutton, the Woolworth heiress. Many of Greta's friends acquired collections of Birch's work.
By 1945 Ranald Valentine had become Birch's third and final patron and his regular fishing companion in Scotland. Birch was given a small studio in Coupar Angus where he gave Greta and Ranald painting lessons. Birch helped Greta with her ambition to be a portrait painter and volunteered as her first sitter. She recalled being chastised by him as she worked on his portrait. "He kept jumping up from his chair to look at the picture", she said "and grumbled a lot but really, his only concern was that I was using oil paint too thinly, too much like watercolour, he thought".
She had a fund of amusing tales about Birch. One of them was of the day she had accompanied him on a rough shoot near Coupar Angus. Birch was then in his seventies. Greta was opposed to blood sports and had gone along most reluctantly. Her worst fears were about to be confirmed when Birch pointed to the rabbit in long grass some way ahead, took aim and fired. A pile of debris shot up into the air and Birch announced confidently 'that's one for the pot'. But when they went to pick up the rabbit, they found no trace of one. It turned out that Birch – his eyesight dimmed by old age – had mistaken some tufts of brown grass for rabbit's ears. But much worse for him, he had actually aimed a little short of the target and hit a cow pat!
At the end of her life Greta struggled to cope with blindness and physical incapacity but found solace in the friendship of a small circle of friends who shared her spiritual ideals. She co-operated with me in the research for A Painter Laureate.  At that time, she was living in a studio on a Sussex farm where she slept in the same room as the cheap plywood coffin she had commissioned for her own funeral. Her last years were spent in a nursing home in west Wales where she enjoyed reliving her colourful life by asking visitors to read out to her passages from A Painter Laureate, which they did repeatedly.
It was typical of her non-conformist approach to life that she should leave instructions for friends to be told of her death by way of a change of address card; and that her funeral service, at a crematorium in Pembrokeshire, should be void of all Christian sentiment. Ranald Valentine died in 1956. They had no children".
(The Flagstaff Issue No 4 Summer 1999)
Sonya Menzies (d 1998)
Sonya, who was the only child of Betty Paynter, and Colonel Paynter of Boskenna's only grandchild, died of cancer on 8th December 1998. Your editor went to her memorial service at St Mary Abbots, Kensington and represented the Society. She had had little contact with West Cornwall since the 1950s.
(The Flagstaff Issue No 4 Summer 1999)
David Hosking (1937-1998)
Austin Wormleighton wrote "The Society lost one of its most ardent supporters this year with the death of David Hosking, of Trevider Farm, St Buryan. David who was 61, farmed at Trevider with his elder brother John. He had a deep love of the Lamorna Valley and his help in the research of A Painter Laureate, was to prove invaluable.
The old Trevider farmhouse where he had lived since 1943 adjoined the cottage where Lamorna Birch, his wife Houghton and their two young daughters Mornie and Joan stayed temporarily in 1910 when Flagstaff Cottage was being modernised. About eight years ago David opened that cottage to show me the completely unmodernised interior, unchanged in its appearance since the Birch's time there. Downstairs were the kitchen utensils that Houghton had probably used, while upstairs David wiped away cobwebs to reveal bedroom wallpaper of a similar vintage.
David was always eager to talk about the painters of Lamorna and gladly took time off from his dairy herd to track down the locations of pictures inspired by the Vale of Trevider. On one occasion he escorted me to the top of Bojewans Carn from where, in 1910, Lamorna Birch painted the picture 'Cornwall', his first international success, which now hangs in the Brown Memorial Gallery, Providence, New Island. With the help of a photograph of that painting David was able to locate the spot where Birch had set up his easel and where Houghton posed with two children.
He was present at our walk through the Lamorna Valley in September 1987? (1997) when the idea of forming a society was first mooted, and he was among those who listened as Keith Gardiner revealed to many of us for the first time – the location of Laura Knight's painting hut on the cliff at Carn Barges. David was fascinated by that discovery.
David Hosking was a quiet, sensitive and generous man. He is greatly missed and it is our immense loss as a society that we will not have the benefit of his interest and knowledge in the years to come.
(The Flagstaff Issue No 3 Winter 1998)
Mr AJ Allen (d 1998)
Sadly, Mr Allen, one of our members, died last September. He was very interested in the Newlyn School and had many books on the subject. He lived in Tavistock but was never able to attend any of our meetings.
(The Flagstaff Issue No 3 Winter 1998)
Phyllis Birch (1910-1998)
Ina Lambe wrote "On 23 March 1998, Honorary member, Mrs Phyllis Birch, died after a short illness, at the age of 87. She was born in Heywood, Lancashire in 1910 and marries Thomas Birch, younger brother pf Samuel John Birch in Manchester in 1947.
They moved to Carbis Bay, Cornwall in 1956 to escape the northern smogs, as Thomas suffered with a chronic chest illness. They opened a draper's shop in Carbis Bay, bringing with them knowledge gained from many years in the textile industry. Phyllis was widowed in 1963 but continued with the shop until her retirement in 1975.
Her main interests were classical music and needlework and she was an accomplished pianist. She followed with great interest the growth of the Lamorna Society and was looking forward to meeting members at the AGM in October.
She was my father's cousin but always treated me as her daughter. I spent countless weekends with them as a child, enjoying helping in the shop and being thoroughly spoilt – red nail varnish to be removed before I was taken back home to Penzance! Auntie Phyll is very special to me and is surely missed."
(The Flagstaff Issue No 2 Summer 1998)